The Bride's Missing Jewels Clue by Clue
How to Play: Clue by Clue is a game that tests your thinking skills. It can be played alone or in a group. Solve the mystery below by going through the clues one at a time. Each time you reveal a new clue, stop and think about what it could mean, what you know from all the clues so far, and what you still need to know. After the last clue is revealed, you can read some hints or go straight to the solution!
The Situation
Mary Johansen is getting dressed for her wedding in the basement of the church. She is planning to wear some very valuable jewelry. She leaves the room for a minute to use the bathroom. When she returns, all her jewelry is gone. Only the maintenance man and the gardener have no alibi.
Who did it?
Can you figure it out in 9 clues?
Clue 1
Mary arrived at the church at 9am on a cold February morning in Massachusetts. She had plenty of time to change into her wedding dress for her wedding at 11am.
Clue 2
Her family stayed in the main hall of the church with the minister. The groom did not arrive until 10:30. Neither did any guests.
Clue 3
The gardener was shoveling snow outside the basement door.
Clue 4
The maintenance man was checking the heating system in the basement.
Clue 5
Brides always change in the minister's study, a comfortable room in the basement of the church.
Clue 6
At 10 am, Mary left the study to go to the bathroom at the other end of the hall. She returned 15 minutes later to find the jewels gone and the gardener standing in the door.
Clue 7
The gardener said he was working outside when he heard a strange noise. He brushed the frost off the window in the door to the basement to look inside. He says he saw the maintenance man taking the jewels.
Clue 8
The maintenance man said he didn't leave the room with the heating system. No one saw him down there. The bride doesn't remember hearing him either.
Clue 9
The heating system is located in a small room between the minister's study and the bathroom.
You now have all the information you need to solve the mystery. Can you figure it out?
If you need hints, click the button below.
Or click here to see the solution.
Hints
Why couldn't the gardener see clearly what was going on in the study?
What does he say he did to see better?
Why does glass fog up in the winter?
Have you figured it out?
Click here to see the solution.
---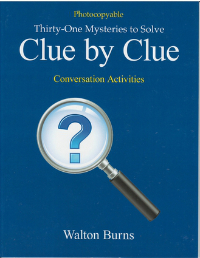 Or take a look at printable versions for students: Mystery Resources on TpT