The Bumped Off Banker Clue by Clue
How to Play: Clue by Clue is a game that tests your thinking skills. It can be played alone or in a group. Solve the mystery below by going through the clues one at a time. Each time you reveal a new clue, stop and think about what it could mean, what you know from all the clues so far, and what you still need to know. After the last clue is revealed, you can read some hints or go straight to the solution!
The Situation
Benjamin Aman is found dead in his office. His lawyer says Benjamin was on the phone with her when he died. The lawyer says she heard Benjamin talking to someone before dying. But police can find no proof Benjamin was killed by another person.
What proof can you find that Benjamin was killed?
Can you figure it out in 6 clues?
Clue 1
The police found the gun in Benjamin's hands. They found only his fingerprints on it.
Clue 2
Benjamin's company was being sued. His lawyer was explaining how serious the problem was.
Clue 3
According to his lawyer, Benjamin was going to lose the lawsuit. He would probably become bankrupt.
Clue 4
His lawyer says as they were talking, she heard Benjamin say, "Please, don't do this." Then she heard a gunshot.
Clue 5
The lawyer claims she tried to call Benjamin's assistant. It took her a few minutes to find the assistant's phone number because she usually called Benjamin direct.
Clue 6
When the assistant rushed in, he immediately took the office phone off the hook and called the police.
You now have all the information you need to solve the mystery. Can you figure it out?
If you need hints, click the button below.
Or click here to see the solution.
Hints
What was Benjamin doing when he was killed?
What happened to the phone after he died?
Who used the phone after Benjamin?
What did they have to do to use the phone?
Have you figured it out?
Click here to see the solution.
---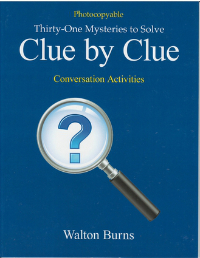 Or take a look at printable versions for students: Mystery Resources on TpT