The Clever Courier Clue by Clue
How to Play: Clue by Clue is a game that tests your thinking skills. It can be played alone or in a group. Solve the mystery below by going through the clues one at a time. Each time you reveal a new clue, stop and think about what it could mean, what you know from all the clues so far, and what you still need to know. After the last clue is revealed, you can read some hints or go straight to the solution!
The Situation
James King is a freelancer who lives alone. When he gets a serious and contagious illness, he starts getting everything else delivered to the house. On Friday morning, the courier comes to his door with a package and almost immediately breaks down the door. He finds James dead. He calls the police and tells them exactly who did it.
Who did it and how did the courier know?
Can you figure it out in 9 clues?
Clue 1
James King's job was to knit scarfs and sweaters and sell them on the Internet.
Clue 2
James was pretty shy and had no close friends or significant other.
Clue 3
The courier knew James well because he was always getting packages full of knitting supplies and sending his creations to customers.
Clue 4
After getting sick, James started having to get everything delivered, including groceries. He even started getting dinner delivered every night from a local restaurant.
Clue 5
On Friday morning, the courier came to drop off some knitting supplies. He quickly realized something was wrong. He broke down the door, saw the dead body, and dialed 9-1-1.
Clue 6
Police said he had been dead for several days but they couldn't say how many exactly.
Clue 7
The courier had last come Tuesday morning. He remembered seeing James through the window and they both smiled and waved at each other.
Clue 8
The courier said something he saw on the doorstep made him suspicious of one particular person.
Clue 9
On the doorstep was a box of books that wouldn't fit in the mailbox, 3 days of newspapers, Tuesday's dinner from the deli, a doormat with the extra key under it, and some gardening tools.
You now have all the information you need to solve the mystery. Can you figure it out?
If you need hints, click the button below.
Or click here to see the solution.
Hints
What day was he killed on?
Is there anything that should be on his front doorstep, but isn't?
How many newspapers were there?
How many dinners were there?
Have you figured it out?
Click here to see the solution.
---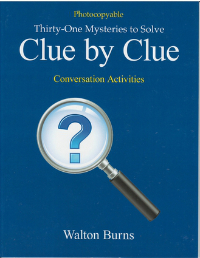 Or take a look at printable versions for students: Mystery Resources on TpT