Death of a Writer Clue by Clue
How to Play: Clue by Clue is a game that tests your thinking skills. It can be played alone or in a group. Solve the mystery below by going through the clues one at a time. Each time you reveal a new clue, stop and think about what it could mean, what you know from all the clues so far, and what you still need to know. After the last clue is revealed, you can read some hints or go straight to the solution!
The Situation
A famous best-selling author, Nathan Rivera, is found dead in his office at home one morning. He was shot in the head. The bullet also struck the clock behind him and broke it. The clock showed a time of death of about 10 o'clock. However, no one else was in the house at 10 o'clock. There were only four people at the house at all that morning:
Mr. Rivera's wife, Sofia Rivera
His daughter, Sara Rivera
The live-in housekeeper, Crystal Taliefero
Nathan's assistant, Valery Kotov
Who killed Nathan and how did they do it?
Can you figure it out in 28 clues?
Clue 1
Nathan had a pretty strict schedule. He usually got up at 7:00, before his wife got up, showered, shaved, and dressed and went into his home office around 7:30am to work alone. He didn't like to be interrupted.
Clue 2
Typically, the housekeeper, Crystal, would make his breakfast and leave it on a tray outside the door around 8:00am. No one would see Nathan until 11:00 when Valery, his assistant, would arrive at work.
Clue 3
On Thursday, he followed his usual routine. No one reported seeing him in the morning at all.
Clue 4
Valery told police that he arrived at 11:00am and let himself in as usual. He didn't see anyone downstairs.
Clue 5
Valery told police that he went straight to the office and found the body. However, police noted that he didn't call 911 until 11:45am.
Clue 6
Searching Valery's house, police found several small items that belonged to the Riveras such as an inexpensive watch and souvenirs from family trips.
Clue 7
The assistant confessed that he was a compulsive stealer (kleptomaniac). He had been stealing small things for years.
Clue 8
Valery told police he had stolen a small bird statue from the garden Thursday before going inside. Before he called police, he had returned it.
Clue 9
Sofia told police that she thought her husband had been feeling a little depressed because his new book wasn't going well.
Clue 10
Mr. Rivera never let Crystal or anyone else clean his office. There was dust everywhere, even on the shelf behind his desk, where the stopped clock was found.
Clue 11
Oddly, there was dust under the clock, but not in a clean spot next to it.
Clue 12
Crystal said that she put Mr. Rivera's coffee outside the door at 8:00ish and went downstairs. She heard him typing through the door.
Clue 13
Crystal said she also heard a bedroom door open on the second floor right after she went downstairs to the kitchen.
Clue 14
Crystal told police that she left to do the shopping shortly thereafter, around 8:15. Mrs. Rivera was just coming downstairs.
Clue 15
Crystal was well-known in town and several people reported seeing her in the shops from about 9 to 11. Then she went to the park in the center of town to relax for a bit. She returned to the house around 11:45.
Clue 16
Mrs. Rivera and her daughter went to town to shop for a wedding dress for Sara who was to be married in 3 months. They were in the dress store from around 9:30 to 11.
Clue 17
The neighbors confirmed that someone had left in Sofia's car a little after 9. The neighbor two doors down said, "Sofia drove an old diesel car. Very loud when it started up. You could always hear it, even inside."
Clue 18
After leaving the dress store, Sofia and Sara walked across the park in the center of town to a café where they had brunch. They were there until police called them and they rushed home.
Clue 19
In the paper shredder in the office, the police found pieces of some kind of card. As best they could tell it was a membership card in a gun club.
Clue 20
The person who signed the card had a first name beginning with S. Police couldn't figure out the rest of the name.
Clue 21
Searching Sara's wastebasket, police found pieces of a letter that had been ripped in pieces. Pieces of it said, "can't get married" and "as your father".
Clue 22
Sara told police that her dad didn't like her fiancé. Mr. Rivera thought the fiancé was more interested in having a famous father-in-law.
Clue 23
A pistol matching the one that killed Rivera was found in the pond in the park near the center of town.
Clue 24
Searching his emails, police found that Rivera had hired a private detective to watch his wife. He was afraid she was cheating on him.
Clue 25
Right before she left the house with her daughter, Sofia Rivera went back into the house to get her phone.
Clue 26
She told her daughter to wait 10 minutes to let the sun warm the engine, then start the car and let it run for a bit.
Clue 27
None of the neighbors remember hearing a gun shot.
Clue 28
After investigating, police discovered that Mr. Rivera had died of poison, not a gun shot. They believe the poison was given to him between 8 and 9 am.
You now have all the information you need to solve the mystery. Can you figure it out?
If you need hints, click the button below.
Or click here to see the solution.
Hints
Who was near the pond in the park?
Who would benefit directly from Mr. Rivera's death?
Who had access to Mr. Rivera between 8 and 9am?
Why did Sofia ask Sara to start the car? What is significant about the car?
Why is it so helpful that the clock was shot?
Why was there no dust directly in front of the clock?
Have you figured it out?
Click here to see the solution.
---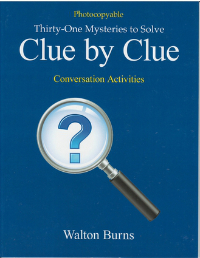 Or take a look at printable versions for students: Mystery Resources on TpT