The Grave Robber Clue by Clue
How to Play: Clue by Clue is a game that tests your thinking skills. It can be played alone or in a group. Solve the mystery below by going through the clues one at a time. Each time you reveal a new clue, stop and think about what it could mean, what you know from all the clues so far, and what you still need to know. After the last clue is revealed, you can read some hints or go straight to the solution!
The Situation
In the middle of the night, someone digs up a grave in a cemetery. The caretaker of the cemetery hears the noise. The thief is surprised and runs away, dropping a coin worth $7 million.
How did the coin get there?
Can you figure it out in 10 clues?
Clue 1
The man buried in the grave was John Leigh, an unemployed taxi driver.
Clue 2
John Leigh died of pneumonia at City Hospital in Room 209, nine days before the grave was robbed.
Clue 3
The coin was owned by billionaire Frank X. Williamson who bought it in an auction 5 years ago. He called it his lucky coin and always kept it with him at all times.
Clue 4
Frank Williamson was in a terrible car crash and died nine days ago.
Clue 5
His only child, Lucy, came to City Hospital as soon as she heard. Unfortunately, he had already died by then.
Clue 6
Lucy checked the pocket where he kept his coin as soon as she arrived. It was missing.
Clue 7
Police searched Frank's room, Room 207, as well as the car, and even the people who had been in the room. They found did not find the coin.
Clue 8
His chauffeur, who had only minor injuries, was allowed to stay in Frank's hospital room. He was the first to hear the doctors say Frank would not survive.
Clue 9
The doctors called Lucy right after speaking to the chauffeur.
Clue 10
When Lucy got to the hospital, she found the chauffeur standing in the hall outside Frank's room.
You now have all the information you need to solve the mystery. Can you figure it out?
If you need hints, click the button below.
Or click here to see the solution.
Hints
Who knew about the coin?
Who had a chance to take the coin?
Where could Frank Williamson and John Leigh have met?
What was the chauffeur doing when Lucy came?
Have you figured it out?
Click here to see the solution.
---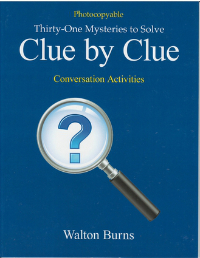 Or take a look at printable versions for students: Mystery Resources on TpT