The Naughty Nightwatchman Clue by Clue
How to Play: Clue by Clue is a game that tests your thinking skills. It can be played alone or in a group. Solve the mystery below by going through the clues one at a time. Each time you reveal a new clue, stop and think about what it could mean, what you know from all the clues so far, and what you still need to know. After the last clue is revealed, you can read some hints or go straight to the solution!
The Situation
At 9:30 Tuesday morning, Frank Malone, the night watchman for a warehouse, came into his boss's office. He told him he had a bad feeling the boss would be hurt or die. The boss fired Frank immediately.
What did the watchman do wrong?
Can you figure it out in 7 clues?
Clue 1
The boss always encouraged employees to come talk to him when they had a problem.
Clue 2
Frank had worked as a night watchman for 15 years. He was a good worker.
Clue 3
After Frank was fired, the boss called for an inventory of the whole warehouse.
Clue 4
Nothing was missing from the warehouse.
Clue 5
Frank works every weekday night, Monday through Friday.
Clue 6
The boss believes Frank was sincere in his concern.
Clue 7
Frank told the boss, "Last night, I had a bad dream. I dreamed you were in a bad car accident."
You now have all the information you need to solve the mystery. Can you figure it out?
If you need hints, click the button below.
Or click here to see the solution.
Hints
What is Frank Malone's job?
Why did he think the boss's life was in danger?
When do people usually have dreams?
Have you figured it out?
Click here to see the solution.
---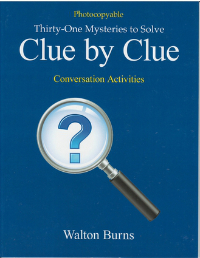 Or take a look at printable versions for students: Mystery Resources on TpT