The Stiff Spy Clue by Clue
How to Play: Clue by Clue is a game that tests your thinking skills. It can be played alone or in a group. Solve the mystery below by going through the clues one at a time. Each time you reveal a new clue, stop and think about what it could mean, what you know from all the clues so far, and what you still need to know. After the last clue is revealed, you can read some hints or go straight to the solution!
The Situation
Margrit Zell is a secret agent from Guilder. She has recently uncovered a ring of spies from Florin. While on summer vacation, she meets Natalya Hale. Natalya invites Margrit to have drinks at her beachfront home.
Margrit is suspicious that Natalya is a secret agent from Florin. She goes to Natalya's house to find out. She is very careful. However, Natalya poisons Margrit.
How did Natalya do it? Can you figure it out in 7 clues?
Clue 1
Both women drank whiskey with ice. Natalya also served a large tray of snacks including cheese, olives, humus, and bread.
Clue 2
Both women ate from the same tray and drank from the same bottle.
Clue 3
The two women sat outside in the garden of Natalya's mansion. They could see the beach beyond the garden which was full of swimmers and sunbathers.
Clue 4
Margrit left Natalya's house around 3pm. She was dead by 4pm.
Clue 5
Natalya drank her drink quite quickly and had a second without ice. Margrit sipped both her drinks with ice because it was so hot out.
Clue 6
Doctors say the poison probably entered Margarit's body around 2pm.
Clue 7
After Margrit left, Natalya cleaned her freezer very carefully.
You now have all the information you need to solve the mystery. Can you figure it out?
If you need hints, click the button below.
Or click here to see the solution.
Hints
Could the poison have been in the food? Why or why not?
Could it have been in the drinks? Why or why not?
Besides whiskey, what else was in Ms. Zell's glass?
What happens to cold drinks when the weather is hot?
Can you make ice cubes out of things other than water?
Have you figured it out?
Click here to see the solution.
---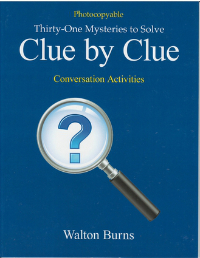 Or take a look at printable versions for students: Mystery Resources on TpT