The Switched Signs Clue by Clue
How to Play: Clue by Clue is a game that tests your thinking skills. It can be played alone or in a group. Solve the mystery below by going through the clues one at a time. Each time you reveal a new clue, stop and think about what it could mean, what you know from all the clues so far, and what you still need to know. After the last clue is revealed, you can read some hints or go straight to the solution!
The Situation
A man who lives at 59 Church Street in Thimbleberry, Connecticut goes out at 8pm on Thursday and switches his street sign with the sign of the next street over, Elm Street. The next morning, he goes for a walk and puts both signs back in the correct place.
Why does he do this?
Can you figure it out in 8 clues?
Clue 1
Both Church Street and Elm Street are dead end streets that start on Pine Orchard Avenue.
Clue 2
Both streets are lined with houses and have no stores.
Clue 3
The man works as an accountant.
Clue 4
The night that the man switched the signs, someone was murdered at 59 Elm Street.
Clue 5
A year ago, he was approached by a criminal gang who offered him a lot of money to work for them.
Clue 6
The police contacted the man recently. They asked him to help collect evidence against the gang.
Clue 7
The man got a phone call Wednesday from the gang leader. The leader told the man he knew he was talking to the police and someone would "get" him tomorrow.
Clue 8
The man had once overheard the leader of the gang order his men to never use GPS, because GPS could leave a history of where they went.
You now have all the information you need to solve the mystery. Can you figure it out?
If you need hints, click the button below.
Or click here to see the solution.
Hints
Did the killer use GPS?
How did the killer find the house of his victim?
Why didn't the killer find the man?
What happened at 59 Elm Street?
Have you figured it out?
Click here to see the solution.
---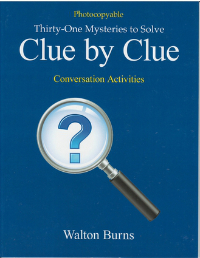 Or take a look at printable versions for students: Mystery Resources on TpT