The Wolf in Lamb's Clothing Clue by Clue
How to Play: Clue by Clue is a game that tests your thinking skills. It can be played alone or in a group. Solve the mystery below by going through the clues one at a time. Each time you reveal a new clue, stop and think about what it could mean, what you know from all the clues so far, and what you still need to know. After the last clue is revealed, you can read some hints or go straight to the solution!
The Situation
Chantal Williams kills her neighbor, Pat Salem, over a recipe for frozen leg of lamb. Police can't prove it because they never find the murder weapon. How did she do it?
Can you figure it out in 8 clues?
Clue 1
Police found Ms. Salem's body in Ms. Williams' kitchen.
Clue 2
Ms. Williams' teenage daughter, Aliah, said Ms. Salem came over to socialize earlier that afternoon. She said the two neighbors were friendly and often spent time together.
Clue 3
Aliah had asked her mom what was for dinner. Her mother said she was making leg of lamb using her special recipe to broil it while still frozen. Ms. Salem apparently snorted and said it was her recipe.
Clue 4
When the two women began arguing, Aliah left to go hang out with her friends down the block.
Clue 5
Ms. Williams says a man wearing all black clothes ran inside and hit Ms. Salem in the head with a hammer.
Clue 6
Police think the murder weapon was much larger than a hammer.
Clue 7
Ms. Williams apologized to police for cooking the lamb while talking to them. She had started cooking it before the police arrived.
Clue 8
The police tested everything they could find in the Williams's house after Nothing they found could have been the weapon that killed Ms. Salem.
You now have all the information you need to solve the mystery. Can you figure it out?
If you need hints, click the button below.
Or click here to see the solution.
Hints
Does it seem likely that a man just ran in and killed Ms. Williams?
Was there anything that could have been in the kitchen and then disappeared?
Why is it significant that the leg of lamb was frozen?
Have you figured it out?
Click here to see the solution.
---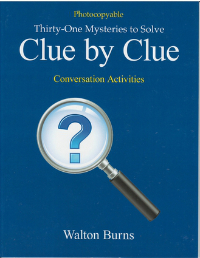 Or take a look at printable versions for students: Mystery Resources on TpT