The Art Thief Clue by Clue
How to Play: Clue by Clue is a game that tests your thinking skills. It can be played alone or in a group. Solve the mystery below by going through the clues one at a time. Each time you reveal a new clue, stop and think about what it could mean, what you know from all the clues so far, and what you still need to know. After the last clue is revealed, you can read some hints or go straight to the solution!
The Situation
Blake Hamilton is a well-known art thief. She is arrested for stealing the famous painting, "Apple Trees in Summer", from the City Museum. Even though police find the painting in her apartment, she is never convicted for the crime.
Why not?
Can you figure it out in 9 clues?
Clue 1
Security cameras in the museum clearly showed Blake stealing the painting.
Clue 2
The painting in Blake's apartment was verified by an art expert.
Clue 3
Police identified Blake quickly from the security cameras, but it took them two days to find out where she lived.
Clue 4
They discovered her address by tracing a phone call she made in the middle of the night to her mother, a well-known lawyer.
Clue 5
As soon as they got her address, they called a judge to get a search warrant. Because it was the middle of the night, they had to go to the judge's house.
Clue 6
The judge had no access to his work computer or files at home so he wrote the warrant out on an ordinary piece of paper.
Clue 7
Police got to Blake's house at 2:00am. She immediately demanded to see the warrant, which they gave to her.
Clue 8
Police found the painting in the ceiling of a closet in a small bedroom at the back of the apartment.
Clue 9
The police left Blake's apartment without the warrant.
You now have all the information you need to solve the mystery. Can you figure it out?
If you need hints, click the button below.
Or click here to see the solution.
Hints
Who benefits from the warrant disappearing?
Did that person have access to the warrant?
What was the warrant made of?
Is that something easy to get rid of?
Have you figured it out?
Click here to see the solution.
---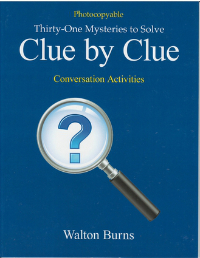 Or take a look at printable versions for students: Mystery Resources on TpT