The Candy Thief Clue by Clue
How to Play: Clue by Clue is a game that tests your thinking skills. It can be played alone or in a group. Solve the mystery below by going through the clues one at a time. Each time you reveal a new clue, stop and think about what it could mean, what you know from all the clues so far, and what you still need to know. After the last clue is revealed, you can read some hints or go straight to the solution!
The Situation
Jordan was trick-or-treating with his friends Ava, Leo, and Emily. As they were preparing to go home, someone ran into the friends hard. They all fell down. When he got up, Jordan realized his bag of candy was missing. Each of his friends told Jordan what happened, but one of them was lying.
Which one?
Read the three statements and say who is lying
Ava
Whoever did it was wearing a skeleton costume. I saw it, all the bones printed on the front! He or she pushed me down so fast I didn't see anything at first. I don't know where they came from. But after I got up, I saw them running away from me.
Leo
I had a rubber mask on and I couldn't see much through the eye-holes. But I think the person who did it had on an orange mask. Maybe they were wearing a pumpkin costume? They tried to steal my bag by the way, but I rolled over and lay on it.
Emily
All I know is that I got knocked down and my witch mask got turned around. I couldn't see a thing. Someone tried to grab my bag of candy, so I hit them with my broom.
---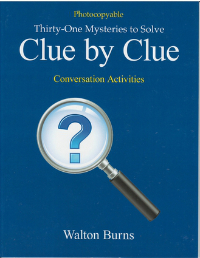 Or take a look at printable versions for students: Mystery Resources on TpT