The Heinous Hotel Clue by Clue
How to Play: Clue by Clue is a game that tests your thinking skills. It can be played alone or in a group. Solve the mystery below by going through the clues one at a time. Each time you reveal a new clue, stop and think about what it could mean, what you know from all the clues so far, and what you still need to know. After the last clue is revealed, you can read some hints or go straight to the solution!
The Situation
A woman falls to her death from her hotel room window. It looks like a suicide, but the police suspect someone killed her.
Why do they think so?
Can you figure it out in 6 clues?
Clue 1
Police identified the body as Claire Rosenthal, a guest at the hotel.
Clue 2
Ms. Rosenthal's bed was unmade, her clothes in the dresser, and books and papers scattered on the desk.
Clue 3
There was a Do Not Disturb sign on the door.
Clue 4
Police found many fingerprints in the room. It was impossible to tell which ones belonged to past guests or if someone shared the room with Ms. Rosenthal.
Clue 5
The police tried to test if the body fell or was pushed by dropping a dummy out the window. They wanted to see how it fell.
Clue 6
They had a bit of trouble getting the window open, but tests showed it was possible she had jumped herself.
You now have all the information you need to solve the mystery. Can you figure it out?
If you need hints, click the button below.
Or click here to see the solution.
Hints
What did police have to do before they could test how Ms. Rosenthal fell
Did Ms. Rosenthal close the window
Had anyone been in the room since she died?
Who closed the window?
Have you figured it out?
Click here to see the solution.
---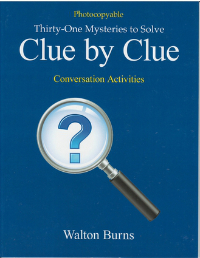 Or take a look at printable versions for students: Mystery Resources on TpT