The Last Request Clue by Clue
How to Play: Clue by Clue is a game that tests your thinking skills. It can be played alone or in a group. Solve the mystery below by going through the clues one at a time. Each time you reveal a new clue, stop and think about what it could mean, what you know from all the clues so far, and what you still need to know. After the last clue is revealed, you can read some hints or go straight to the solution!
The Situation
Mr. Fulton never trusted banks. Instead, he kept his money in a safe at home. When he was diagnosed with cancer, he told his son he had saved up one million dollars. He said his son would know where to find the money. However after he passed away from cancer, his son finds the safe empty.
Where is the money?
Can you figure it out in 7 clues?
Clue 1
Nothing of value was found anywhere in the house or at his place of work.
Clue 2
No secret hiding places were found either.
Clue 3
The only thing of interest he bought before he died was the clothes he wanted to be buried in.
Clue 4
Those clothes were very odd. Mr. Fulton wanted to be buried in the uniform of his college singing group, the Rainbows. The uniform was famous for its bright colors: a bright purple suit coat, a red shirt and cufflinks with green jewels, an orange tie, yellow pants, and blue shoes.
Clue 5
Mr. Fulton thought his time singing with the Rainbows was the happiest time of his life. He was very happy when his son went to the same college and also sang in the Rainbows.
Clue 6
The funeral director said that Mr. Fulton had brought the entire costume to him for safe-keeping a few months after he was diagnosed with cancer.
Clue 7
The funeral director thought the outfit was strange, but he agreed to dress Mr. Fulton in the clothes Mr. Fulton brought him: purple jacket, red shirt, cufflinks with big white jewels, orange tie, yellow pants, and blue shoes until Mr. Fulton died.
You now have all the information you need to solve the mystery. Can you figure it out?
If you need hints, click the button below.
Or click here to see the solution.
Hints
What did he and his son have in common?
What was the uniform of the singing group?
Did Mr. Fulton buy everything he needed for the uniform to be correct?
Have you figured it out?
Click here to see the solution.
---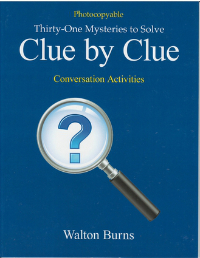 Or take a look at printable versions for students: Mystery Resources on TpT