The Midnight Robbery Clue by Clue
How to Play: Clue by Clue is a game that tests your thinking skills. It can be played alone or in a group. Solve the mystery below by going through the clues one at a time. Each time you reveal a new clue, stop and think about what it could mean, what you know from all the clues so far, and what you still need to know. After the last clue is revealed, you can read some hints or go straight to the solution!
The Situation
Airplane pilot Joana Li leaves her hotel room in the middle of the night to go to the airport. She is robbed right outside the hotel. Then she goes straight to the nearest police station. She can't describe the thief because he was wearing a mask. However, police find two suspects in the area.
Which suspect did it?
Can you figure it out in 5 clues?
Clue 1
Captain Li told police she only had $20. This made the mugger mad.
Clue 2
The robber tried to grab the gold pilot wings off her shoulders.
Clue 3
Police asked both suspects, "Did you mug Capitan Li?"
Clue 4
Suspect 1 said "I didn't mug anyone tonight. Check my pockets. I'm broke."
Clue 5
Suspect 2 said, "I don't know anything about an airline pilot."
You now have all the information you need to solve the mystery. Can you figure it out?
If you need hints, click the button below.
Or click here to see the solution.
Hints
When you hear the word Captain, what do you think of?
Do you think of a pilot?
Did the mugger know Joana Li was a pilot?
Which suspect also knew she was a pilot?
Have you figured it out?
Click here to see the solution.
---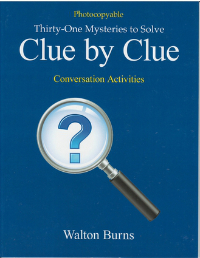 Or take a look at printable versions for students: Mystery Resources on TpT